Nadege is one of the many beneficiaries of the project widu.africa. Before starting her own business initiative and project as a self-employed micro-entrepreneur, she was saying: "I don't need donations, I am looking for a loan or investment that would allow me to start my own small business and earn money."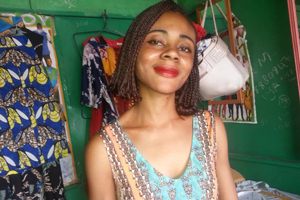 Nadege's motivation has always been to provide access to education for her children and also to offer hope and opportuniies to other underprivileged women from her neighborhood and business area without any possibility of getting financial support or access to job opportunities.
Since she started her own business in a neighborhood of the Cameroonian capital Yaoundé, two (2) years ago, things have fundamentally changed with Nadege in a positive way. The Funding she got from her Diaspora Investor as well as extra resources through WIDU "have enabled her to buy more sewing machines and take on three workers. Within a short time, she has tripled her turnover. WIDU.africa has also provided her with a coach to advise her on bookkeeping and business planning, among other things. A great achievement for the 34 years old mother of 3 Children living in Cameroon, a country where up to 70% rural women have less Access to education, Jobs or income.
In this time of crisis and uncertainties it is absolutely crucial to step back and I think forward on how to build awareness for sustainable development and engage with underprivileged people and empower communities through capacity building by taking advantage of opportunities given by innovation. A such innovation is "widu.africa platform, available since the end of 2019 as a concrete solution for the promotion and financing of micro and small enterprises in Africa, was launched on the initiative of the German Federal Ministry for Economic Cooperation and Development (BMZ) and the Deutsche Gesellschaft für Internationale Zusammenarbeit GmbH (GIZ)."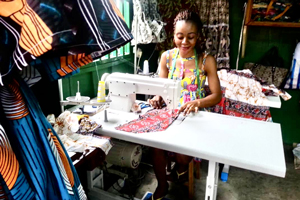 Meanwhile WIDU is active in many African countries, Cameroon, Ethiopia, Ghana, Kenya, Togo, Tunisia and has supported the creation of jobs for thousands of women and men. Therefore WIDU is definitely a pathway in supporting the SDG Framework in the context of global development and ensuring, "no one is left behind".
Fred-Eric Essam, Chairman, ident.africa e.V.
Nadege was one of the very first WIDU entrepreneurs. I remember meeting her under the heat of the mid day sun while she explained her business to us. Since those early days we have supported over 2,500 entrepreneurs in Africa. Nadege, however, remains one our brightest stars. Her project, supported by Mr Fred-Eric Essam, features in nearly every publicity, powerpoint or even web video. She is one of the many extraordinary people that have grasped the concept of WIDU and built a business and life from it. We wish her every success in the future.
Tom Sorensen, WIDU project lead, Cameroon.